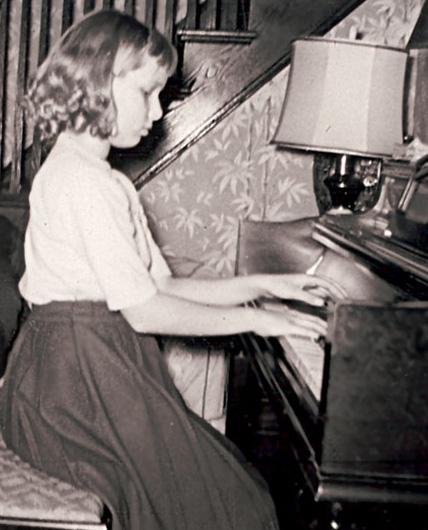 Monica in 1954
My First Piano Lesson...
...was on October 17, 1951 at 8pm in a large rambling house filled with 9 different pianos at 39 Randolph Place, Newark, N.J. My dad drove me there—he had taken the trouble to try to find the best piano teacher in town for me, and came up with the name of Alex Chiappinelli, a Naples immigrant who taught 12 hours a day 7 days a week. "Chippy," as we called him, had 5 daughters and a large wife named Matilda, who spent most of her time in the kitchen cooking up sumptuous meals for her family.
I walked in to my half-hour lesson past 9 feet of concert grand piano to the bench next to my teacher. All the determination in the world was with me as I learned my first treasured song: "Robin in the cherry tree, Sing a pretty song to me."
Robin Variations (2001)
(written by Clifton J. Noble, Jr. to honor the 50th anniversary of Monica's first piano lesson) - Live performance, 2001.
This significant moment was preceded by a full year of cajoling and begging. Here's how it happened. In 1950, in the early days of television, there was a Sunday morning children's show called "Ted Mack's Children's Amateur Hour." I thought it would be just terrific to be on that show and have all those people applauding for me. But I had one problem—I needed to have some kind of talent. So I watched the children, while trying to figure out if they were doing anything that I could learn to do. Singing? No. Dancing? No. Juggling? No. Finally, a 12-year-old boy got up and played "The Warsaw Concerto" on the piano, and I knew I had found my calling. "That's it!" I cried, and promptly announced to my parents that I was going to be a pianist, and therefore I needed to have lessons.
"But we don't have a piano," they said. "This is just another of your whims. Remember that doll you wanted for Christmas? We gave it to you, and two weeks later you stopped playing with it. This is too expensive for us. You'll start, and then you'll give it up." So I had to beg, and I distinctly remember a moment (which my mother never recalled) when I said with my whole heart and soul, "I'll never give it up!"
And so it was that I embarked on my studies, at times in fear and trembling of the curses that would be hurled at me if I didn't practice well. I must add, that though I shuddered in anticipation of my 8am Saturday lesson as I watched "Life of Riley" on Friday night TV, all lessons always ended with an apology and a big hug.
My early training was basically good, though it took many years before I was able to discover the ease of piano playing through Alexander Technique. Meanwhile, from the very beginning I was made to take music theory for 2 hours every Saturday morning, and in later years sightsinging, music history, and theory for 3 hours every Friday night. Those early classes were a blessing for the rest of my life.
In case you wondered, I never did get to be on "Ted Mack's Children's Amateur Hour."