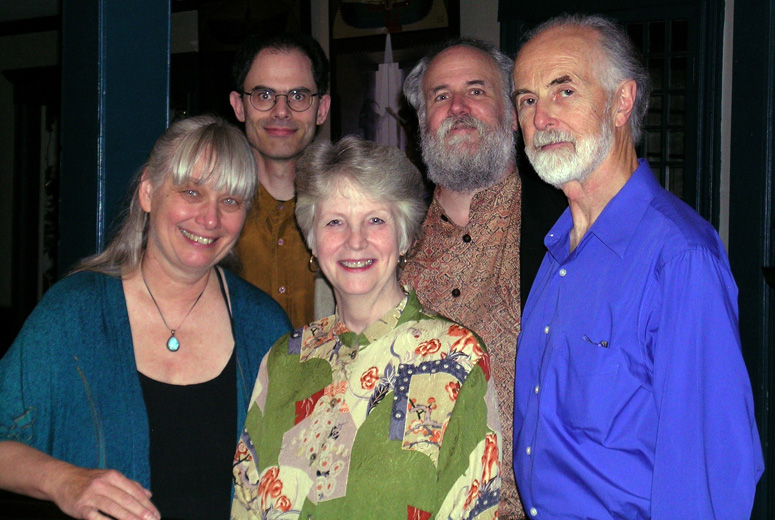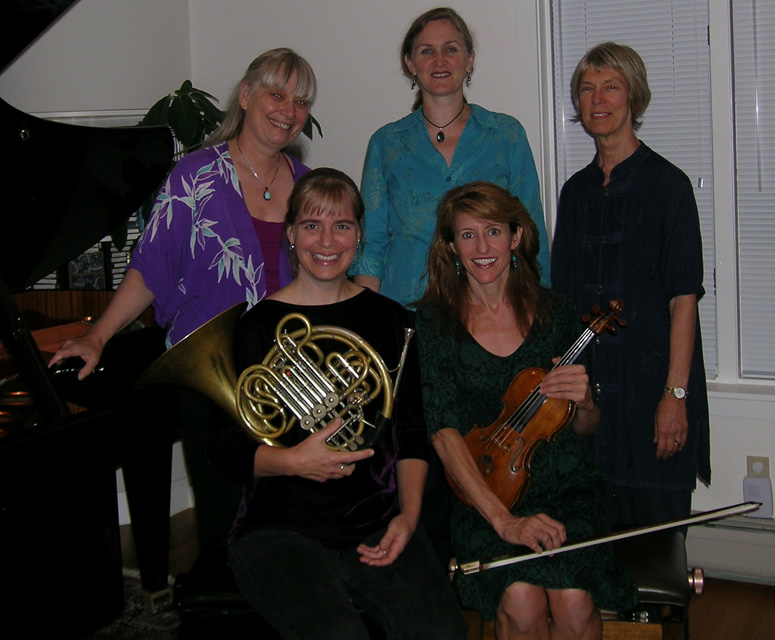 Top: David Schneider, Peter W. Shea, Jim Ballard, Charlotte Dewey, Monica Jakuc Leverett after "The French Connection." Bottom
(clockwise from upper left): Monica Jakuc Leverett, Eileen Ruby, Christine Olson, Sarah Briggs, Jean Jeffries will perform in "An
Afternoon of Schubert and Brahams." Images credit Bob Leverett
About "Music at the Charlemont Inn"
Soprano Charlotte Dewey and pianist Jim Ballard have been giving concerts at the Charlemont Inn for the past two and a half years.  This season Monica Jakuc Leverett and friends are joining them for an inaugural chamber music series in September. All concerts will be followed by dinner, with a special price for the combination.  As a tribute to the Inn's famous ghosts, every program will have at least one work especially dedicated to its guests from other dimensions.  The concerts will benefit the Charlemont Inn Preservation Society, a tax-deductible non-profit organization.
Sunday September 12 at 4 pm: "The French Connection"
Charlotte Dewey, soprano; Peter W. Shea, tenor; David Schneider, clarinet;
Jim Ballard and Monica Jakuc Leverett, piano
Works by Debussy, Faure and Poulenc.
The Charlemont Inn, Charlemont, MA
Admission $15; Concert and dinner $25
www.charlemontinn.com
Sunday September 26 at 4 pm: "An Afternoon of Schubert and Brahms"
Eileen Ruby, mezzo-soprano; Sarah Briggs, violin; Jean Jeffries, horn;
Monica Jakuc Leverett and Christine Olson, piano
Schubert songs and sonatina; Brahms Horn Trio.
The Charlemont Inn, Charlemont, MA
Admission $10; Concert and dinner $25
www.charlemontinn.com